330-259-1230 or 216-777-3077
Manufactured Home Foundation Certifications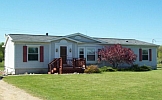 If you are selling or buying a manufactured home, then most likely a foundation certification will be required. For all FHA and VA loans, an engineer's foundation certification is required that states that the home is placed on a permanent foundation that complies with the "HUD Permanent Foundation Guide for Manufactured Homes", dated 1996 by the US Department of Housing and Urban Development (HUD).
We have partnered with the engineers at
Foundation Certifications
to provide a turn-key foundation certification service to you. You may place your order online by going to
http://www.FoundationCerts.com/order
.
What others are saying...

Celebrating 17 Years 2006-2023!
Home Inspections Start At $365*

Package Our Most Popular Services Below And Save!​

We're always looking for great talent to join our team in eastern Ohio and Western Pennsylvania. Positions include: Inspectors, Assistant Inspectors, Marketing/Sales Reps. Click the button to see which area is right for you.

Regardless If A Package Is Purchased. Your professional home inspection includes checking:
Roof, Attic, Structure, Foundation. Electrical, Plumbing, Heating & Cooling, Appliances
*additional services can be added on separately*Pricing for homes or condos up to 3000 square feet. For larger homes and homes over 35 miles away, additional charges may apply.
​330-259-1230 or 216-777-3077